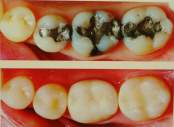 Composite Fillings
Natural color fillings are not only an attractive replacement for unsightly silver fillings, they are also stronger and non-toxic.
Silver Fillings Toxic?
Dental amalgam poisoning: The dental profession has been using fillings containing mercury, commonly called silver fillings by most dentists, since the 1830's! Yes, these fillings were in general use well before the civil war. Dentists also call these fillings 'amalgams' or 'amalgam fillings' referring to the fact that any mixture of mercury with other metals is called an 'amalgam'. The term 'amalgam' comes from chemistry, not from dentistry. Amalgam fillings are made of a mixture of the metals mercury, silver, tin, zinc, and sometimes copper. Mercury is a heavy metal, like lead. Both are very poisonous. There is always more mercury metal in the dental filling mixture, than any of the other metals. In fact, these dental fillings always consist of at least half mercury. The mercury is always present as the free elemental metal. It is never combined with any of the other metals in a chemical union that could theoretically render the mercury non-toxic. Thus, the mercury metal is always able to evaporate off the filling surfaces as toxic mercury vapor. Toxic mercury vapor escapes from the elemental mercury metal at any temperature above 10 degrees Fahrenheit. The only time that mercury metal is not toxic is when it is ten degrees Fahrenheit or colder. This never happens to mercury in your mouth, because mouth temperature is far higher at about 98.6 degrees Fahrenheit. Drinking hot coffee or tea, or eating hot soup raises the temperature of your fillings even more. This increases the amount of mercury vapor released into your mouth. So mercury in your 'amalgam' fillings is always evaporating and escaping from the fillings in your mouth.
Ask Dr. Wooten about replacing your old silver fillings with natural tooth colored fillings.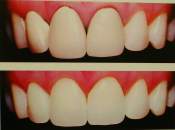 Crowns
With new, natural looking, all porcelain crowns there is no unsightly metal margin at the gumline.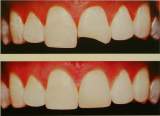 Bonding
This technique allows us to use a natural color material to beautifully fill in gaps and chipped edges.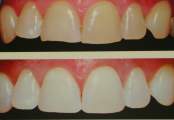 Brightening, Contouring and Polishing
We can smooth out the rough edges of your teeth and give them a beautiful symmetrical look.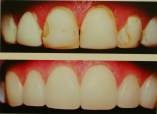 Veneers
We use very thin layers of porcelain and laminate them directly to the surface of your teeth, giving you an all over "smile-lift", and a whole new improved look that will look amazing and last for years.